Rubber lining Plate ( Wear Rubber Liner Latex )
What Is Rubber Lining?
Rubber Lining Is a Kind Of Rubber Sheet Which Is Pasted On The Steel Frame To Prevent The Steel Frame From Being Worn Out In Abrasive Environment. In Practical Application, It Has The Functions Of Acid Resistance, Chemical Resistance, Alkali Resistance, Wear Resistance And Infection Prevention.
Use Of Rubber Lining
Rubber Lining Is Widely Used In Chemical Industry, Mining, Fertilizer, Electrochemistry, Steel, Transportation And Environment. Rubber Lining Is Used To Prevent Wear And Friction. Using The Most Advanced Technology, We Can Produce Linings Of Different Thicknesses For Various Industrial Occasions. The Comprehensive Use Of Various Rubber Can Extend The Life Of Equipment, Cope With The Hardest Wear And Corrosion Applications, And Be Applied To Extreme Chemical Environments. Against Severe Wear And Tear.
Rubber Type For Lining
According To The Different Production Processes, Rubber Can Be Divided Into Natural Rubber And Rubber, Which Can Be Used To Cope With Different Situations.
Natural Soft Rubber Lining
Soft Rubber Lining Is Made Of Various Types Of Soft Rubber. This Kind Of Rubber Has The Characteristics Of Low Hardness, High Elasticity And High Flexibility. They Can Absorb And Repulse The Influence Of Wear Force Of The Treated Medium. They Are Suitable For Mud Tank Lining, Pipeline Lining, Pump Lining, Etc. Natural Soft Rubber Linings Are Also Used In Pickling Tanks, Storage Tanks Resistant To Hydrochloric Acid And Sulfuric Acid Solutions.
Natural Hard Rubber Lining
Hard Rubber Lining Is Made Of Various Types Of Hard Rubber Materials. They Are Chemical Corrosion Resistant Linings With Good Flexibility And Impact Resistance. Some Of Them Are Graphite-Based Rubber Linings, Which Have Excellent Chemical Resistance At High Temperature. Others Are Desulfurized Rubber Linings, Which Are Suitable For Container Linings And Can Not Be Cured By Pressurized Steam. These Types Of Hard Rubber Linings Are Suitable For Storage Tanks, Reactors, Factories Using Ion Exchange Membrane Technology, Pipelines At High Temperatures, Etc.
Synthetic Rubber Lining
Chloprene Rubber Lining
These Rubber Linings Are Usually Made Of Polybutadiene Rubber With Good Weather Resistance And Ozone Cracking Resistance. They Also Have Better Oil, Acid And Wear Resistance. Vinyl Chloride Rubber Lining Is Suitable For Seawater Desalination Plant, Seawater Pipeline, Water Tank Lining, Sewage Transportation Of Water Treatment Plant, Ships And So On.
Butyl Rubber Lining
Butyl Rubber Has Excellent Chemical Resistance At High Temperature. These Rubber Linings Are Also Very Durable Due To Their Low Vapor Permeability. Therefore, Butyl Rubber Lining Is Suitable For Containers, Acid Equipment Pipelines, Flue Gas Desulfurization, Hypochlorite Storage And Transportation.
Chlorobutyl Rubber Lining
The Chlorobutyl Rubber Lining Made From Chlorobutyl Has Similar Characteristics To Butyl Rubber Lining, But It Is Easier To Apply. Their Heat Resistance Is As High As 200 Degrees Fahrenheit. These Linings Are Not Affected By Cold Weather Or Rapid Temperature Changes.
Hypalon Rubber Lining
These Types Of Rubber Linings Are Based On Chlorosulfonated Polyethylene Rubber With Excellent Chemical Resistance To High Concentration Of Oxidizing Acid. Hypalon Rubber Lining Can Also Be Pre-Vulcanized. They Are Suitable For Containers, Pipes And Hypochlorite Facilities With High Acid Concentration.
EPDM Rubber Lining
Ethylene Propylene Diene Monomer (EPDM) Rubber Has High Tensile Strength And Excellent Resistance To Penetration, Ultraviolet Radiation, Weathering And Microbial Erosion. EPDM Lining Is a Kind Of High Elastic Material With Low Coefficient Of Thermal Expansion And Shrinkage. It Can Be Widely Used In Various Temperatures And Topography. These Properties Of EPDM Not Only Make It Suitable For Lining, But Also For Rubber Coating.
As Far As EPDM Linings Are Concerned, They Are Suitable For All Types Of Pond Linings, Such As Decorative Ponds, Golf Course Ponds, Irrigation Ponds And Other Waterscapes, Such As Lakes And Streams, Canals And Channels, Reservoirs, Etc. They Are Also Suitable For Landfill Cover, Waste Water Treatment Facilities And Lining Of Fish Hatchery.
Application Of Rubber Lining
Tank Rubber Lining: Rail Car Tank, Pickling Tank, Degreasing Tank, Electroplating Tank, Bottom Tank.
Mining Wear Parts : Rubber Lined Pipe , Slurry Pump Rubber Parts , Rubber Screen , Hydrocyclone Rubber Lining Parts , Mill Rubber Liner , Flotation Machine Rubber Rotor Stator
Chemical Industry: Hydrochloric Acid, Sodium Hydroxide Tank, Reaction Vessel, Heat Exchanger, Filter Equipment, Condenser, Tank Car, Pipeline, Vibration Screen, Etc.
Unvulcanized Rubber Lining For Workshop And Site Use.
It Is Mainly Used For Pre-Vulcanized Rubber Lining Of Large Vertical Storage Tanks.
Self-Vulcanized Rubber Lining Or Chemically Cured Rubber Sheets For Maintenance Work.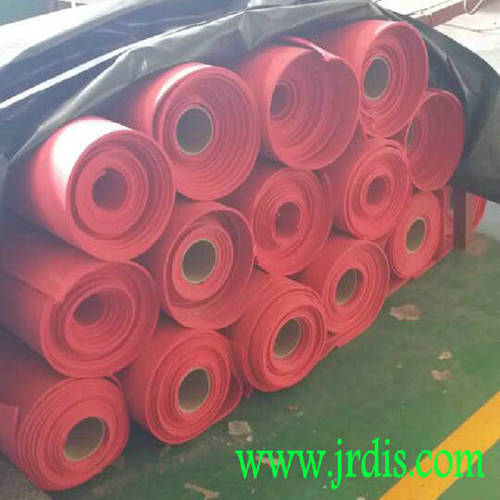 Processing Technology
Although The Rubber Latex And Rubber Adhesive Are Of Rubber, But Its Processing Technology And The Performance Of The Final Products Have Great Difference. Latex Is a Colloid Chemistry-Based Industries, Has Its Own Unique Process.
Manufactured Products From The Latex Process: Latex → With → Forming → Drying → Curing.
Adhesive Rubber Latex Products Manufacturing Processes For The Same Thing: Gum → Plasticating (Heavy Machinery) → Mixing (Heavy Machinery) → Solution → Drying → Forming → Curing.
Plastic Dairy Processing Technology And Processing Technology Of Dry Rubber Products, Compared With Many Advantages As Follows:
Latex Processing Process And Equipment Is Simple, Easy-To-Ingredient Processing, The Production Process Easier Mechanization And Automation Of Linkage;
Latex Rubber Molecules In The Process Of Mechanical Destruction Of Not Being a Strong Role, So Their Products Remain The Excellent Performance Of The Original Polymer;
Latex In The Liquid State Under The Pre-Vulcanized, Pre-Vulcanized Latex Will Not Have Scorch;
Production Costs Are Generally Lower;
Can Not Create Raw Rubber Latex Manufacture Of Certain Products, Such As The Circular Cross Section Plastic Wire.
Can Produce a Lot Of Dry Rubber Latex Can Not Be Very Difficult To Manufacture Or Produce Products. However, Due To Water More Latex Itself, Forming a Large Number Of Semi-Finished Products Still Contain Water, Since Water Can Not Remove Them, Affecting The Production Of Thick Latex Products In The Application, And The Large Variability Of Natural Rubber Latex, Easy To Control The Stability And Consistency; In Addition, The Latex Reinforcement Has Not Been Directly Addressed. Solve These Problems Well, Is Expected To Directly Manufacture Tires And Other Rubber Latex, Dairy Products, Latex Industry Will Be More Prosperous.